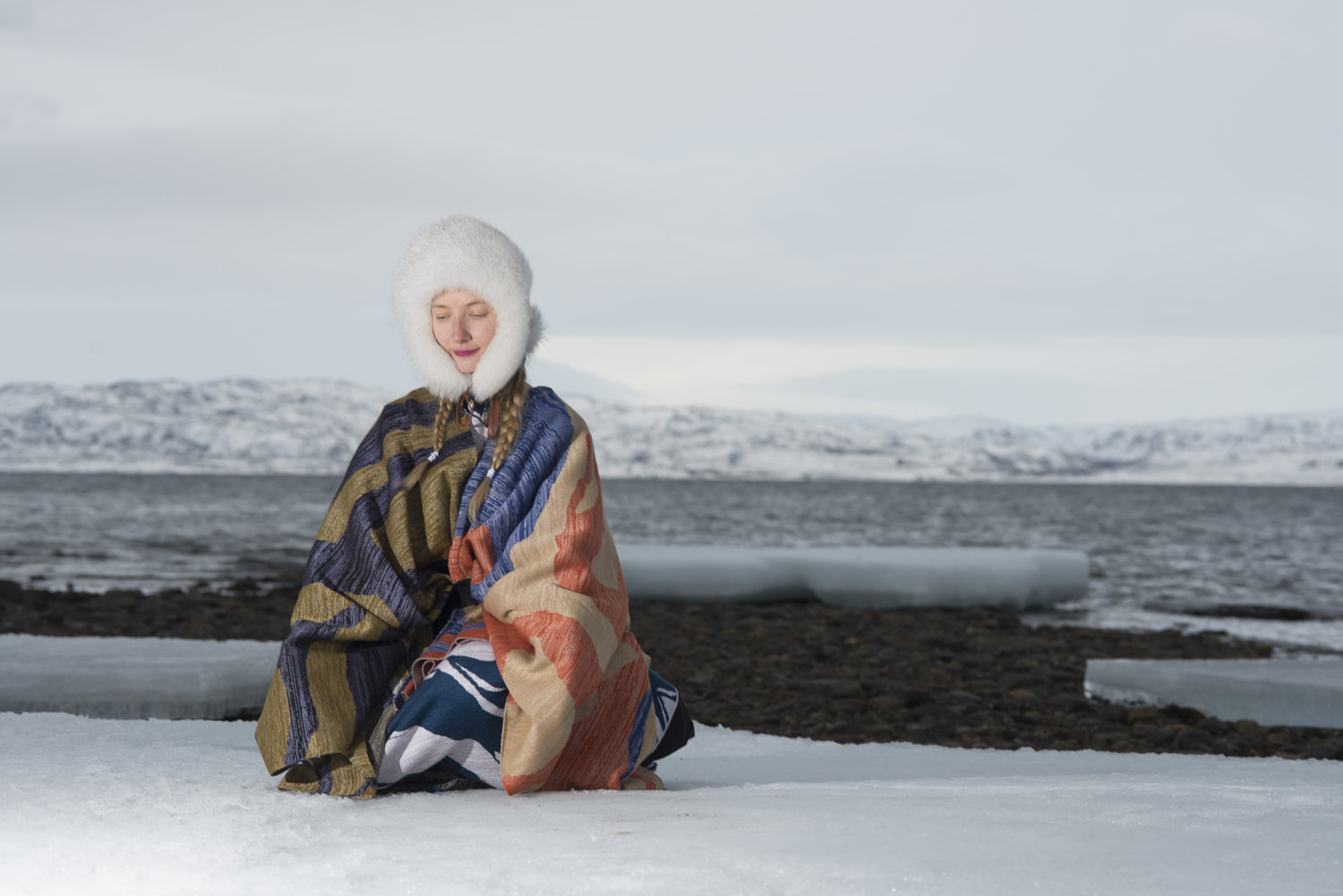 Gjesteatelieret in Vadsø (Cáhcesuolo) 2019
Katarina completed her fieldwork Gift of Stone in choreography studies in Várjjat the year 2019. She had arranged the artist's residence through the generous Gjesteratelieret in Vadsø (guest studio), where she got a place to live and to work. She had already been there for a good period before Ramona also participated in the last half of her stay. The guest studio in Vadsø was the first artist residence Ramona and Katarina experienced together and the project Gift of Stone was the first collaboration.
Torgrim and Katarina drove from Varanger to Sør-Varanger to pick up Ramona at Kirkenes (Girkonjárga) airport. It was March 2019, and the landscape was dressed like a winter gákti adorned with a risku (like a Sámi dress carrying snow with a shining sámi silver accessorize like the sun).

The three do not know each other very well. Torgrim and Katarina are what we say in Norwegian (tremenninger), but they first came to known each other in 2018. Torgrim is a photographer living in Ski municipality, originally from Kiberg (Biergi) in Varanger/ Várjjat, and Ramona and Katarina had barely met on a few occasions before. On each occasion, Ramona and Katarina met at the Oslo National Academy of the Arts. This is how they came to know each other, when Katarina invited Ramona into her master project in choreography carrying the name Gift of Stone. Ramona had completed her master's thesis The Sámi Half Hour in fashion and clothing design six months before. The themes in both the master's thesis had common denominators in a Sea Sámi landscape, where, among other things, the stone was prominent in both perspectives. Ramona had the special Máze Náránaš stone as inspiration and guide in her collection, and Katarina saw the stones as an entrance to the memories of her ancestors in Várjjat. For Katarina's pre-project exhibition at the Oslo National Academy of the Arts, December 2018, Ramona had made three prototypes of knitted textiles which later became the basis for costumes and a landscape in which Katarina's choreography was formed and moved in. Their collaboration through tactility, movement, design, and choreography became prominent, and has evolved since.

Torgrim and Katarina arrived over half an hour late to pick up Ramona on the winter-dressed day in March 2019. Ramona has since said that she had to call home to say that she had been left out in the middle of the eastern Arctic north without knowing very well who she was going to meet. While Katarina had to stop to take pictures of the mountains that appear as you enter Sør-Varanger from Varanger, Ramona stood and waited for a "Sámi half hour."

Torgrim, Ramona and Katarina explored their meeting in the next few days with the wind, weather, and what lives in the Várjjat landscape as partners. An artistic meeting between photography, fashion design, and choreography. Some of the photos from this collaboration are to be seen below. Sea and coastal Sámi identity, consequences of Norwegianization policy towards Sámi's in Sea Sámi areas in northern Norway and interdisciplinary collaborations were topics that were raised in our meeting, and which were important in the Gift of Stone project.

In addition to the meeting with Torgrim, the main part of the project was based on work at Varanger Sámi Museum (Várjjat Sámi Museums). For almost two weeks, Ramona and Katarina commuted by bus to the museum to examine and set up Gift of Stone as a performance and installation. The work took place in Inga-Gammen (Ingá-Goathi) at the museum. Inga-Gammen is shaped like an earth hut in Sea Sámi tradition, and is well suited as exhibition space, but also as a performance space. Gift of Stone at the museum was created in collaboration with Johan Sara jr. as a composer and with the locally known yoiker Johan Andreas Andersen as a guest artist. The local forces at the museum and Katarina's family were also of great help to us in establishing the landscape in 'gammen.' They contributed to conversations and reflections, ironing and sewing textiles, picking up dried fish heads and participating as a test audience. A relational bond with Várjjat was strengthened through the interaction with both the landscape, close encounters, and each other.
During our last days in Várjjat, we had two performances at the museum for local guests and the public. They joined a journey from the museum's outside to the inside, a journey through the past, present, and perhaps the future. Because Várjjat Sámi Museum are stewards of sea Sámi cultural history, and their dissemination takes place, among other things, through exhibitions and research work that has an important value in the sea Sámi area in Várjjat.
Conversations, coffee, dried meat, and fish became the travel food after the performances, in interaction between us as artists and the guest audience.
Links:
︎︎︎
The guest studio in Vadsø
︎︎︎
Varanger Sami Museum
Gift of Stone articles written by Nayla Naoufal:
︎︎︎
https://blackbox.no/nb/cf561a6b-4193-4c82-b846-cd915fdd546b/
︎︎︎
https://www.facebook.com/revue.esse/posts/10158221220032841/
︎︎︎
Thesis
«Gift of Stone». Articulations of religion and indigenity: An artist's exploration of his Sami identity.
by
Niittyvuopio, Rakel-Maria